It's a girl!
<![if !vml]>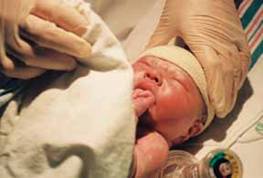 <![endif]>
Rachel Alexandra Oppmann
<![if !supportLists]>· <![endif]>Born at Tuesday, Sept. 6, 2005, at Mercy Medical Center, Oshkosh, WI.
<![if !supportLists]>· <![endif]>Weight: 8 pounds, 4.5 ounces.
<![if !supportLists]>· <![endif]>Length: 19 inches
<![if !supportLists]>· <![endif]>Health: She's just fine, thanks.
Posted Sept. 8, 2005
For many of our friends and colleagues, the word that we had a baby will be the first time they even knew we were trying again. If you fall into that category, we apologize and hope you understand. If you know our family history, you know why we were holding our breath a bit, afraid to be too hopeful this time.
In a column I wrote in 2004, I theorized that most people – us included – want happy endings. It's human nature. It's the story arc that many authors strive to achieve. And it's a result of a lifetime of conditioning, from fairy tales to television dramas.
On Tuesday, Sept. 6, after a few heartbreaks (some very public, some very private), we got Rachel. A happy ending? Perhaps. But really, this is the happy beginning we've been trying to write since we said good-bye to Patrick two years ago.
Rachel is an angel. Quiet, bright pink and, well, forgive my pride, but just perfect. Emily and Sarah are thrilled. She's also a bit impatient. Rachel, eager for her debut, came early (her due date was Sept. 17). Yes, we were caught off guard. In fact, her name wasn't confirmed until Thursday, right before we left the hospital. Mom got through the delivery with flying colors. --- ANDREW
Posted Nov. 28, 2005
At the urging of some friends, and the gentle prodding of a colleague at The Post-Crescent, I wrote this column, which appeared in the newspaper on Thanksgiving Day 2005. It "closes the book" on the series that appeared in 2004 regarding the death of Patrick. Let me know what you think. --- ANDREW
Rachel's 3rd Birthday, September 2008
Photos of Rachel (Updated December 2007):
Rachel's 2nd Birthday, September 2007
Various 2007 photos, posted July 2007
Various 2006 shots
<![if !supportLists]>· <![endif]>Click here for very cool photo of Rachel shot at the Fox Cities Children's Museum in 2006.
Various 2005 shots