<![if !vml]>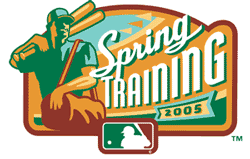 <![endif]>
ANDREW AND DON'S 2005
SPRING TRAINING ADVENTURE
Posted March 2005
Since 1993, we have traveled each March to either Florida or Arizona to visit as many Major League Baseball training camps as possible during a four-day weekend. During the good old days, before Spring Training became a more refined tourism draw (read: expensive) and our two travelers were a tad younger, we would take in seven or eight games (day and night) during a trip. These days, it's down to four (only day games) -- but our spirit remains as strong as ever.
(For those of you wondering who Don is, he's Elise's sister's son, formerly known as Nephew Boy when we all lived in Houston. It was Elise's idea for Andrew and Don to make the first Spring Training trip in 1993 for Andrew's 30th birthday. The trip has endured as an annual tradition – and, when the bills come due, we both say it was all Elise's idea for uncle-nephew bonding).
This year, the 13th season, we return to Arizona, and we've declared the City of Phoenix as our home base. In past years, we've lamented that we didn't keep a journal of our travels. We're addressing that goal in 2005 with this Web page.
Sometime soon (we'll say before the end of the summer if current trends continue), we'll replace this site with some observations and rankings of the parks below. Andrew and Don will be doing a magazine article on their annual trek and park ratings for an upcoming edition of a magazine by Gannett Wisconsin.
WHERE WE'RE GOING IN 2005
We've selected four Spring Training sites in the Cactus League for this year's adventure.
Park No. 1: Phoenix Municipal Stadium
Home of the Oakland Athletics
<![if !vml]>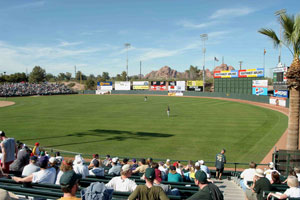 <![endif]>
PHOTO FROM OAKLAND ATHLETICS WEB SITE:
This park has been one of our favorites ever since our first trip to Arizona in 1995 (yes, we went there during the odd strike season, which was like watching a company softball tournament, but with really good uniforms). In our four or five previous visits to Arizona (we've lost count), we've always scheduled things so that we visit this park. Superb views of the desert landscape beyond the centerfield wall. Nice sightlines. Mass-produced beer.
Read more about this park:
Park No. 2: Surprise Stadium, Surprise, AZ
Home of the Kansas City Royals and the Texas Rangers
<![if !vml]>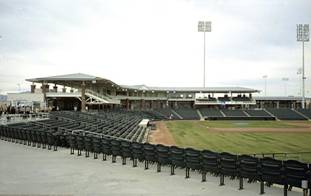 <![endif]>
PHOTO FROM KANSAS CITY ROYALS WEB SITE
We were lucky in 2003 to be among those who attended a game during the inaugural season of this fine park, which opened to the public on Dec. 7, 2002. We actually planned the trip that year so we could go to two games there: One on St. Patrick's Day (with the Royals as the home team), one the day after. We ended up only seeing half of the first game and none of the second game because it rained. And it was cold. And, yes, this is the desert. However, this is a wonderful facility: Modern, but not built retro, with attention to sightlines, fan comfort and first-class concessions (great micro and major beer selection).
Read more about this park:
Park No. 3: Peoria Sports Complex, Peoria, AZ
Home of the Seattle Mariners and the San Diego Padres
<![if !vml]>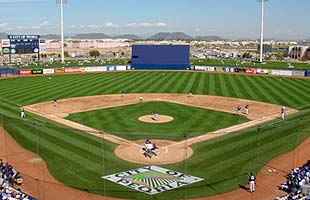 <![endif]>
PHOTO FROM SEATTLE MARINERS WEB SITE
We've been here before, too (in fact, as we write this, we wonder: Is there any park we haven't visited in 11 years?), and found it to be a good place to take in a game. It's got a special connection for Andrew, as it is the Spring Training site not only for the Mariners, but also the Wisconsin Timber Rattlers, the Mariners' Class-A affiliate based near Appleton. During our last trip to the desert, in 2003, we were set to see the Mariners play (we got front-row seats, right behind the screen, dead center of Home Plate), then hit the town with some Rattlers coaches and staffers. Then, of course, we experienced a second straight rainout, with the Phoenix area recording four inches of water (they only get about seven in a normal year). Needless to say, no Mariners game and we didn't catch up with our crew with the Rattlers (they didn't even come to the park). We're hoping for another chance this year. Andrew ranks the park as solid (of course, or we wouldn't go), but it's No. 4 of the four facilities we will be visiting this year because of its beer offering (high prices and a selection limited to mass-produced malted products). It was the first two-team camp built in the country (built in 1994) and is holding up well. One advantage: Fans sit close to the field. And, hey, sitting in the stands, the view beyond the fence is great.
Read more about the park:
Park No. 4: Maryvale Sports Park, Phoenix, AZ
Home of the Milwaukee Brewers
<![if !vml]>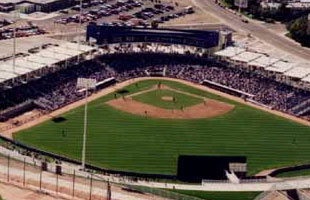 <![endif]>
PHOTO FROM MILWAUKEE BREWERS WEB SITE
Andrew lives in Wisconsin now, so it's something of a kick to visit this park, which is usually populated by snowbirds from the America's Dairyland. Last time we visited, Andrew saw several folks wearing Timber Rattlers hat and fielded at least two circulation questions about The Post-Crescent. Plus, they have several varieties of Leinenkugel's beer, a Wisconsin favorite (owned by Miller, but intentionally left alone so not to mess up its unique family heritage and independent nature), served cold in large cups at a fair price. Oh, yeah, the park's nice, too.
Read more about the park:
<![if !vml]>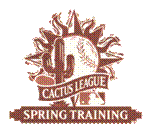 <![endif]>