How very softly
you tiptoed into my world.
Almost silently

,


only a moment you stayed.
But what an imprint
your footsteps have left
upon my heart.

-- Little Footprints by Dorothy Ferguson
From The Post-Crescent obituaries
Monday, Nov. 3, 2003
Oppmann, Patrick George (Grand Chute):
Infant son of Andrew and Elise Oppmann was born and taken into God's hands on Nov. 2, 2003, at Mercy Medical Center in Oshkosh. Survivors include his sisters, Emily Katherine and Sarah Elizabeth of Grand Chute, and his grandmother, Anne Freeman Peace of Hopkinsville, Ky. He was preceded in death by his grandfathers, Patrick George Oppmann of Marshfield, Harold E. Peace of Hopkinsville, Ky., and Frank Kenneth Wey Jr. of Gadsden, Ala., and his grandmother, Mary Katherine Wey of Monterey, Tenn. Private services have been held. Memorials may be directed to First United Methodist Church of Appleton or to the charity of your choice.
Note from Andrew
Sunday, Nov. 2, 2003
All: I wanted to let you know that our son, Patrick, was born early Sunday morning at Mercy Medical Center in Oshkosh. We were fortunate to have about 30 minutes with him before he died from complications from Potter's Syndrome. Thanks to the generosity of friends, we were also lucky enough to get our daughters to the hospital in time for them to meet Patrick while he was still with us. Elise and I want to thank each of you for your support and kindness during these difficult months. This entire process has caused me to reevaluate many things in my life --- and, I hope, gain a greater appreciation for the things that truly matter. Your friendship truly matters to us and, as a result, Elise and I consider ourselves to be lucky people.
Photos of Patrick during his brief life (click your BACK button on your browser to return to this page):
<![if !supportLists]>· <![endif]>Patrick with a doll given to him by Emily and Sarah
<![if !supportLists]>· <![endif]>Emily checking Patrick's heartbeat with a scope
<![if !supportLists]>· <![endif]>Family portrait with Patrick
<![if !supportLists]>· <![endif]>Andrew holding Patrick
<![if !supportLists]>· <![endif]>Close-up shot of Patrick resting on Elise
<![if !supportLists]>· <![endif]>Another close-up of Patrick
<![if !supportLists]>· <![endif]>Yet another one of the boy
A brief Q&A about our third baby
Q: What happened to Patrick?
A: Our son was diagnosed in September with Potter's Syndrome, a rare, fatal birth defect that, in layman's terms, means he did not develop kidneys. While rare, it does happen enough for there to be a Web site (www.potterssyndrome.org) and numerous support groups throughout the nation. The formal term for this condition is Renal Agenesis.
Q. Is there a cure or treatment to Potter's Syndrome?
A. No. Most Potter's babies are born stillborn. Without kidneys, there's little or no amniotic fluid in the womb. Without the fluid, the baby cannot easily move and, even worse, the lungs fail to properly develop. Death usually comes from respiratory failure.
Q. Who is Patrick named after?
A. We named Patrick after his grandfather, who died in 1989. Andrew thought this would be appropriate, since his father was born in Wisconsin and spent his youth in Marshfield, about two hours west of Grand Chute.
Q. How are Emily and Sarah doing?
A. We were able to get some great advice from professionals on helping toddlers deal with tragic news. Both understood that Patrick was sick and would not be with us for very long. Both of them also were able to say "hello" and "good-bye" to him. Later, Emily told a friend, "Patrick came to visit us for awhile, but now he lives in Heaven." Emily now says she wants to be a "baby doctor."
Columns from

The

Post-Crescent
Andrew wrote four columns about Patrick for his newspaper.:
<![if !vml]>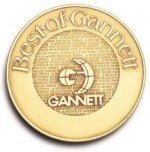 <![endif]>
The March 21, 2004, column received first-place honors in the
2004 Best of Gannett competition. Click on the medallion above to read a PDF copy
of the Gannett contest book (See page 46).